Une double traversée naturiste du Mont Pouakai
La ligne rose sur cette carte montre la voie d'une récente randonue que j'ai faite dans le Parc national d'Egmont.
The pink line on this map shows the route of a recent rando-nue I did in the Egmont National Park.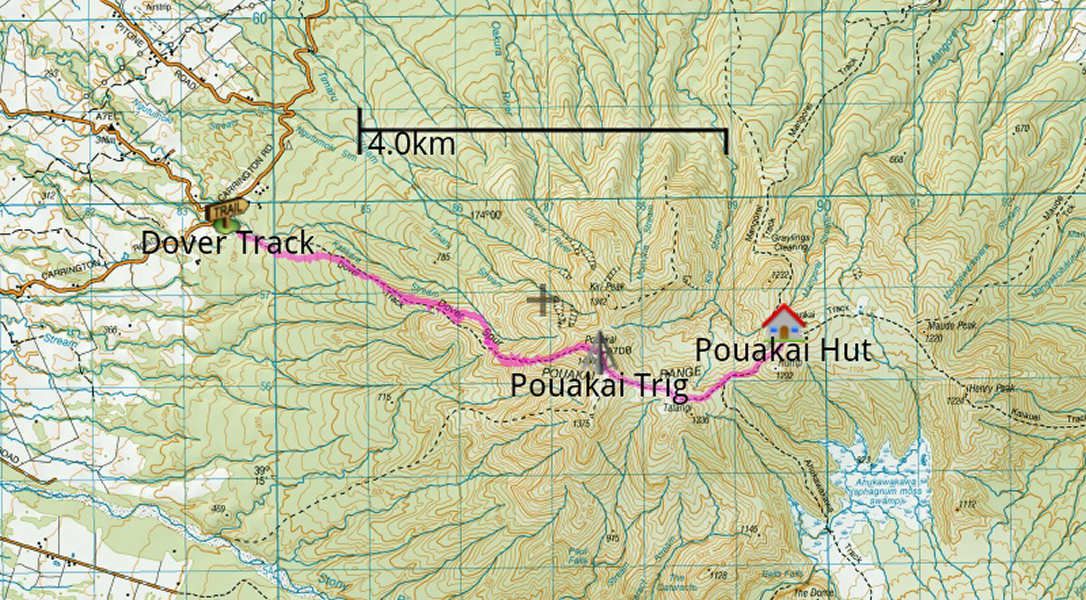 Commençant à 450m d'altitude sur la route Carrington, j'ai suivi la piste Dover sur un éperon proéminent au sommet du Pouakai, 1400m. De là, je suis descendu à Pouakai Hut à 1210m où j'ai passé la nuit. Le lendemain, je suis reparti par le même sentier.
Commencing at 450m altitude on Carrington Road, I followed the Dover Track up a prominent spur to the summit of Pouakai, 1400m. From there I descended to Pouakai Hut at 1210m where I spent the night. The next day I returned by the same track.
Pouakai est juste à gauche du centre de la photo ci-dessous. Il est le point le plus élevé d'un volcan éteint depuis longtemps. A droite vous pouvez voir le volcan dormant (mais non éteint), le Mont Egmont, 2518m .
Pouakai is just left of centre in the following photo. It is the highest point of a long-extinct volcano. To the right you can see the dormant (but not extinct) volcano, Mount Egmont, 2518m.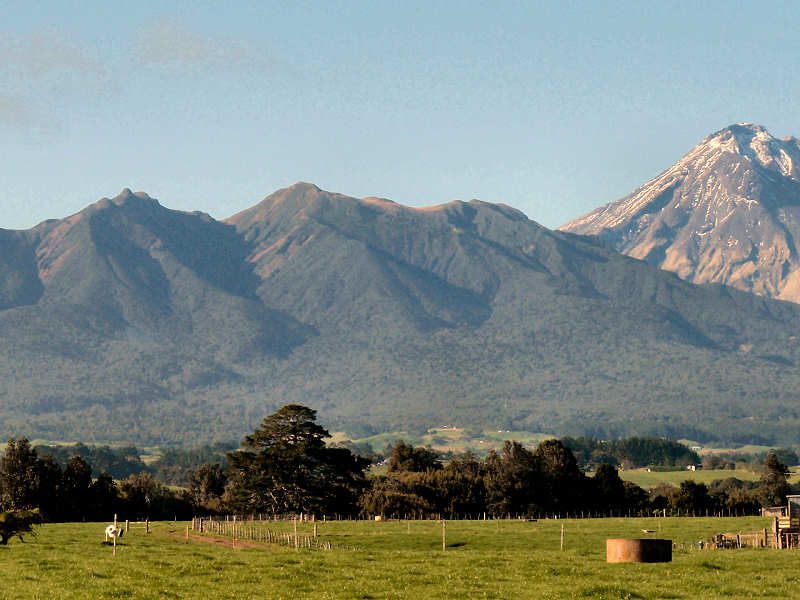 Ce panneau indique le départ de la piste Dover.
This sign indicates the start of the Dover Track.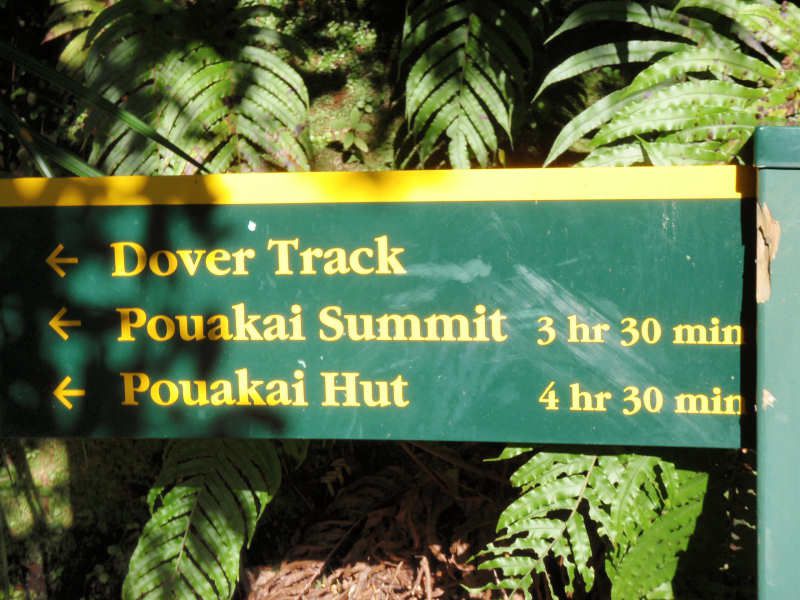 Après environ deux heures de montée à travers la forêt dense, j'ai émergé dans la région subalpine et fait une pause pour un petit casse-croûte.
After about two hours of climbing through dense native bush I emerged into the region of sub-alpine vegetation and paused for refreshments.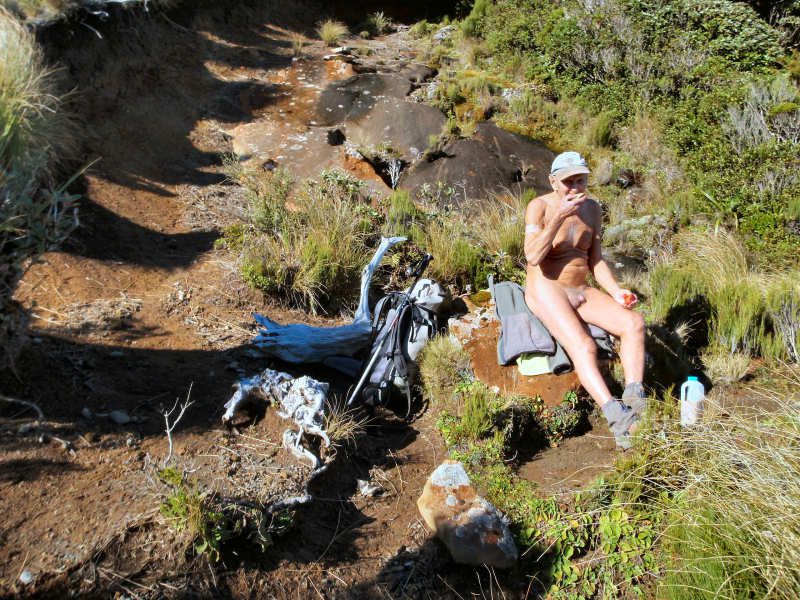 Alors que je jouissais des chauds rayons du soleil, la terre et la mer au-dessous de moi étaient couverts de nuages​​.
While I was enjoying warm sunshine the land and sea below me were covered by cloud.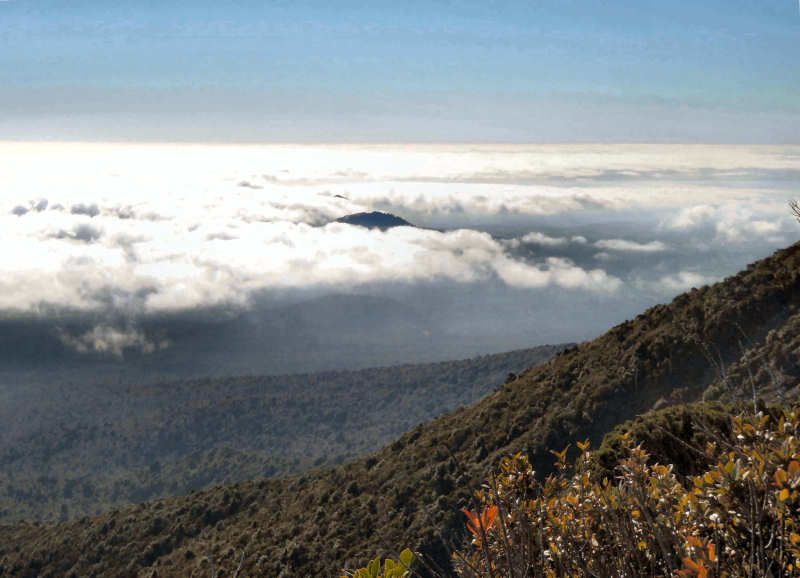 Tout en continuant mon ascension, je suis tombé sur quelques belles dalles de roche volcanique couvertes de lichen. Comme j'aime l'air pur de la haut montagne!
Continuing my climb, I came across some beautiful lichen-covered slabs of volcanic rock. How I love to be high in the clear mountain air!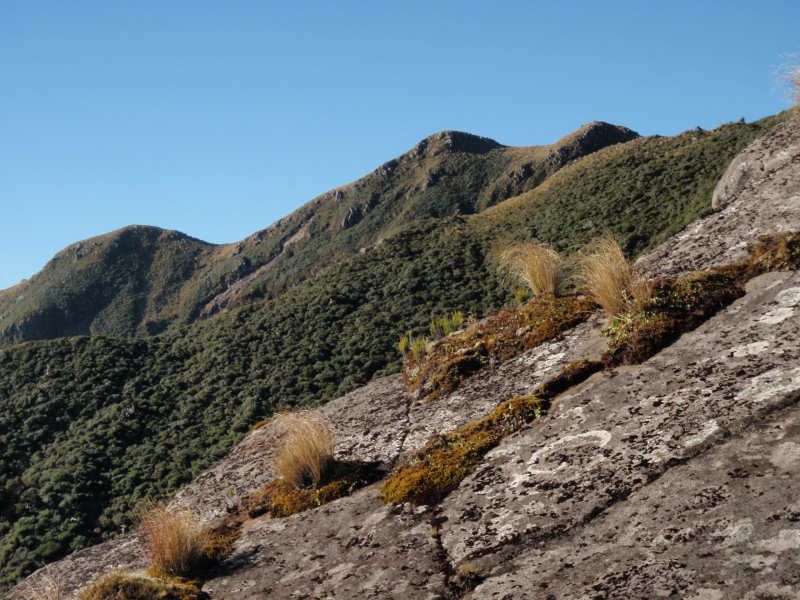 En levant les yeux, j'ai vu qu'il me restait encore un long chemin à parcourir - mais j'aime les défis.
Looking up, I saw that I still had a long way to go - but I enjoy a challenge.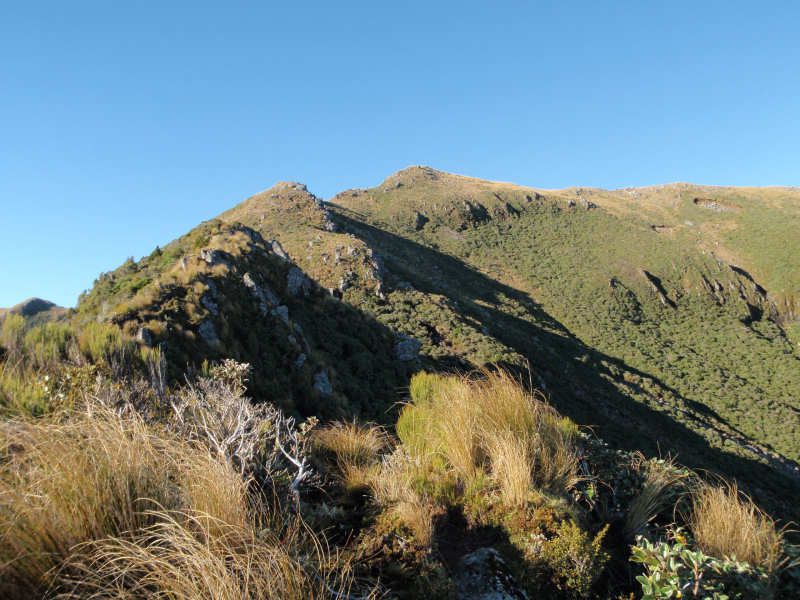 La piste monte continuellement à travers de grands rochers, et de la végétation alpine.
The track climbs steadily through large boulders and alpine vegetation.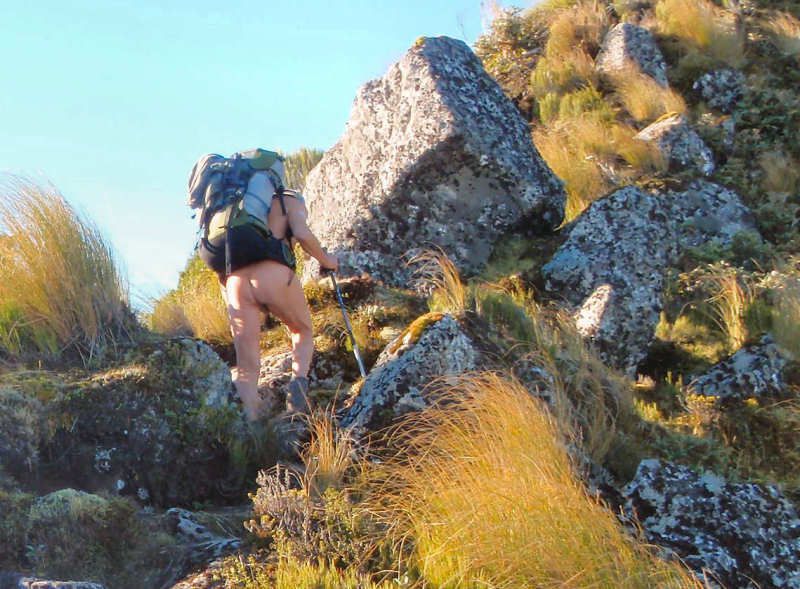 Au fur et à mesure de mon ascension , le sommet du mont Egmont semblait s'élever au-dessus de la chaine Pouakai ....
As I climbed higher, the summit of Mount Egmont appeared to rise over the Pouakai Range...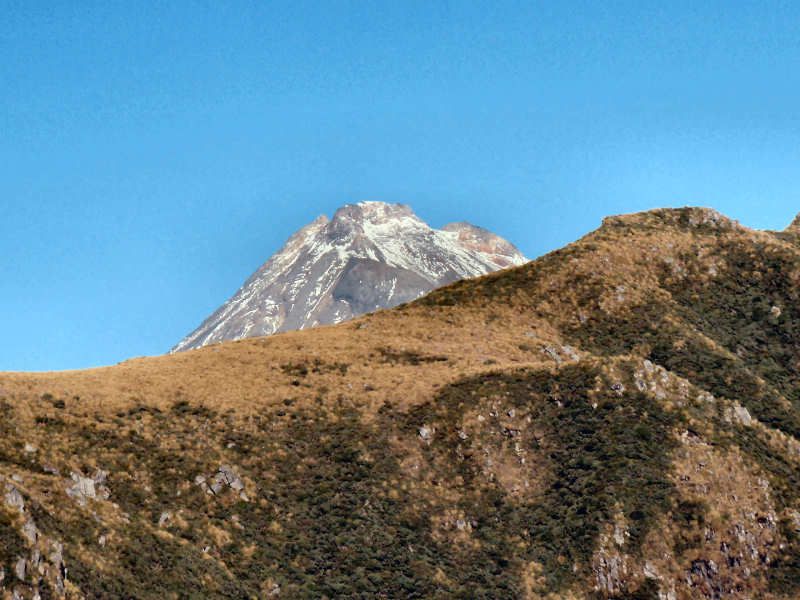 Soudain, je tombai sur une chute raide dont il fallait descendre cette étroite cheminée dans la falaise.
Suddenly, I came to a steep drop where it was necessary to climb down this narrow rock chimney.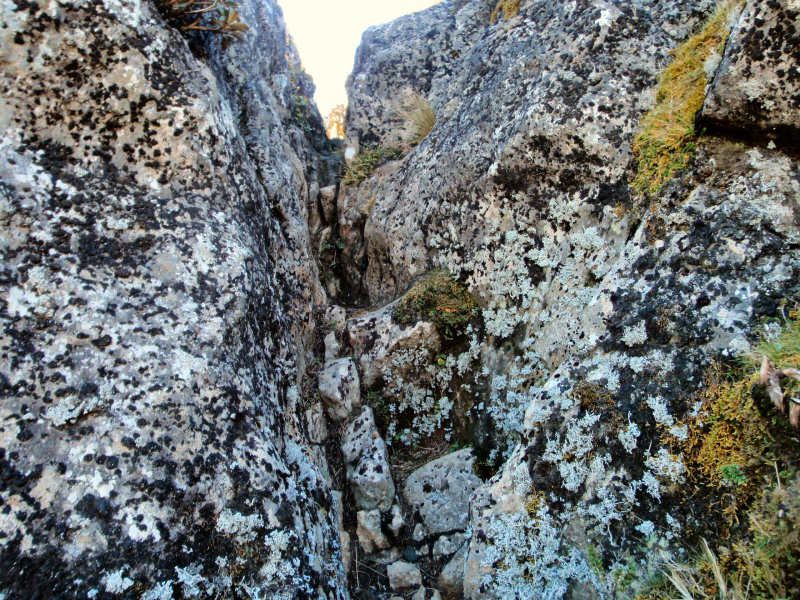 En regardant en arrière, je pouvais voir la falaise rocheuse que je venais de descendre....
Looking back, I could see the rocky cliff I had just climbed down....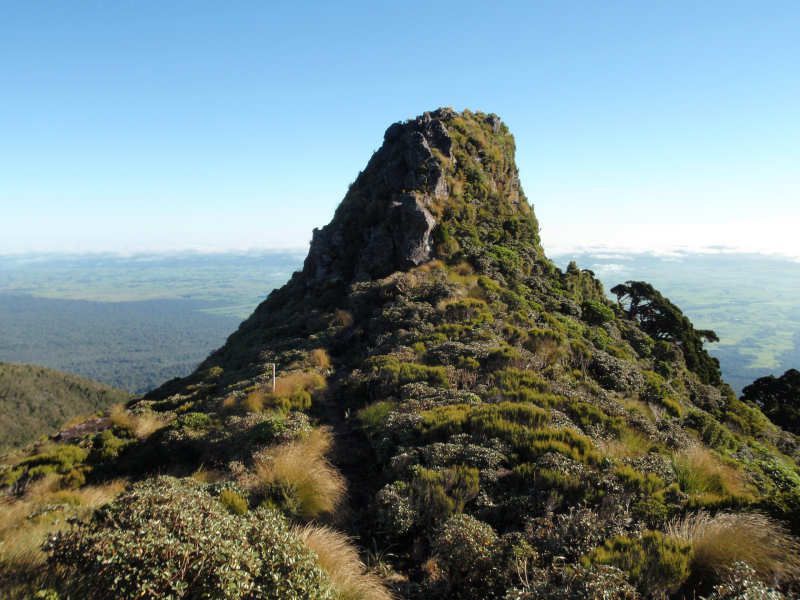 .. et, levant les yeux, je pouvais voir le sommet du Mont Pouakai avec sa tour géodésique.
..and looking up I could see the summit of Mount Pouakai with its geodetic tower.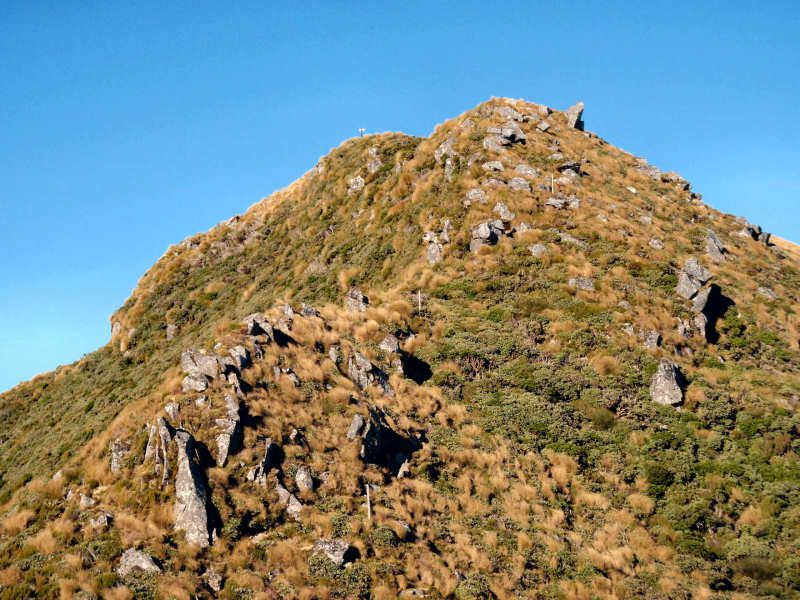 C'était merveilleux de se tenir sur le sommet et regarder d'en haut le monde d'en bas.
It was wonderful to stand on the summit and look down on the world below.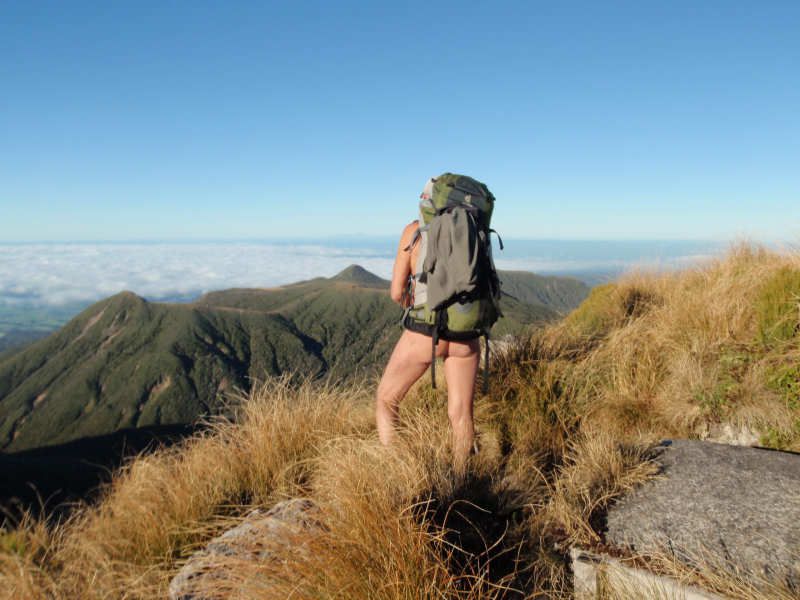 Je pouvais voir sur des miles alentours, et les collines étaient magnifiques dans la lumière du soir.
I could see for miles and the hills looked great in the evening light.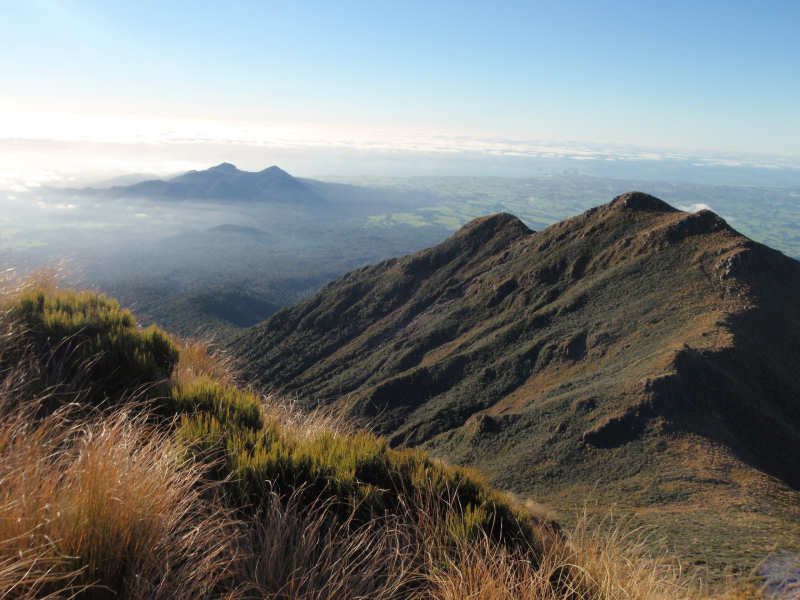 En descendant vers la cabane Pouakai je pouvais à peine quitter des yeux le majestueux volcan Egmont.
While descending towards the Pouakai Hut I could hardly keep my eyes off the majestic Egmont volcano.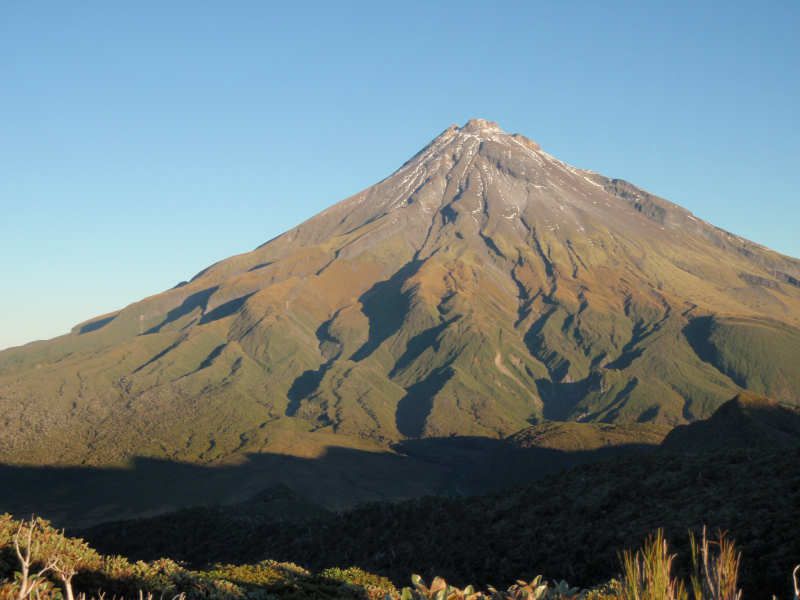 Quand je suis arrivé, le soleil se couchait sur ​​une vaste mer de nuage. Ça faisait du bien d'être en vie!
As I arrived at the hut the sun was setting over a vast sea of cloud. It felt good to be alive!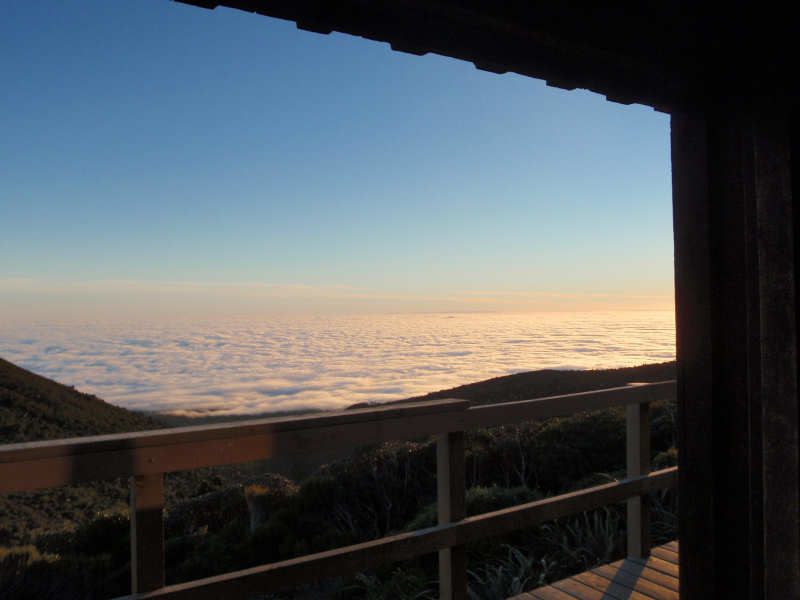 Quand j'ai repris le chemin le lendemain matin, il y avait un vent froid soufflant de l'ouest. J'avais le corps au chaud avec une polaire et une parka.
When I set off from the hut the next morning there was a cold wind blowing from the west. I kept my body warm with a fleece and parka.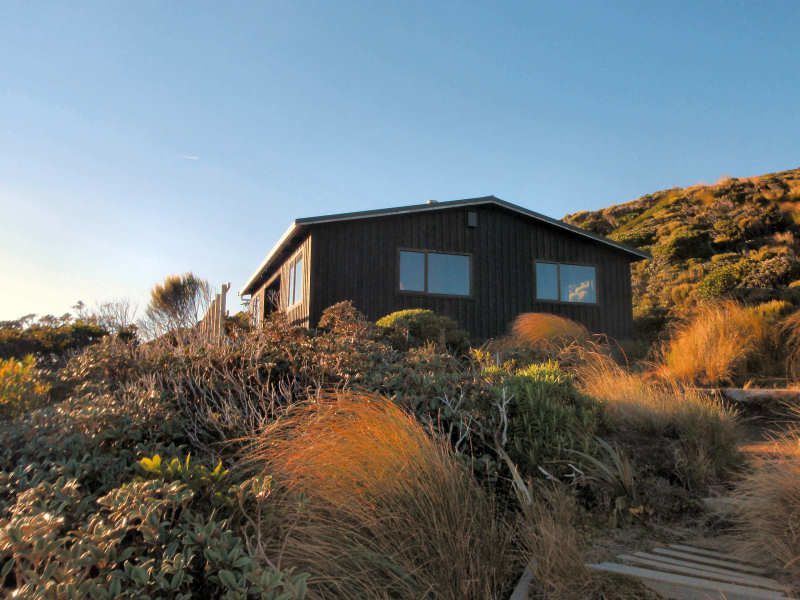 De la crête de la chaîne Pouakai, je pouvais voir les Monts Tongariro et Ruapehu à 130 km à l'est... .
From the crest of the range I could see Mounts Tongariro and Ruapehu 130 km away to the east...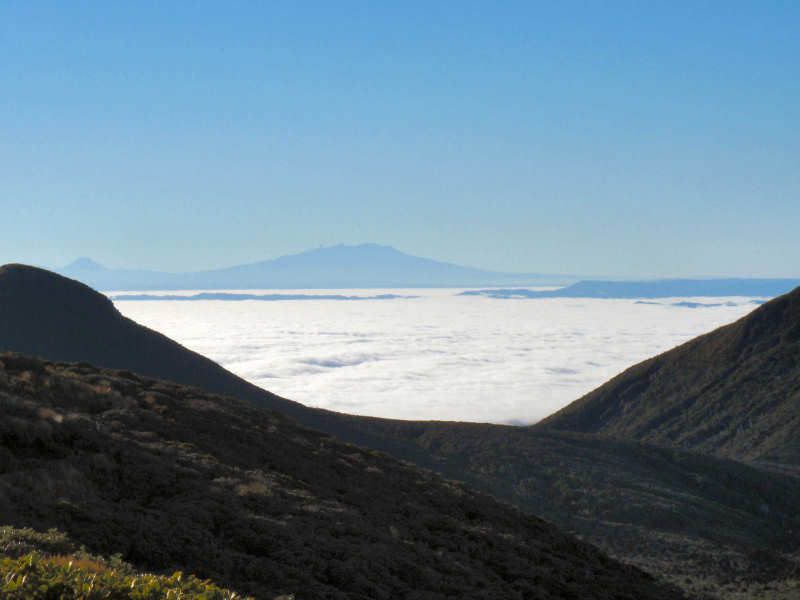 .. et à l'ouest, le Mont Pouakai me lançait un nouveau défi .
..and to the west Mount Pouakai challenged me to cross her again.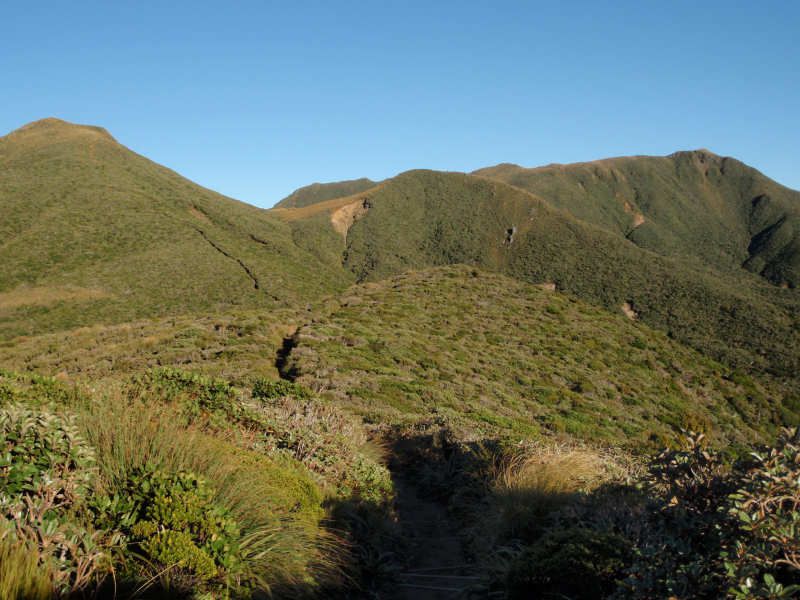 Dès que j'ai été réchauffé par la marche, j'ai enlevé mes vêtements et, en dépit de la brise fraîche, j'ai continué dans ma tenue préférée.
As soon as I had warmed up by walking, I took off my clothes and, in spite of the cool breeze, I continued in my favorite mode of dress.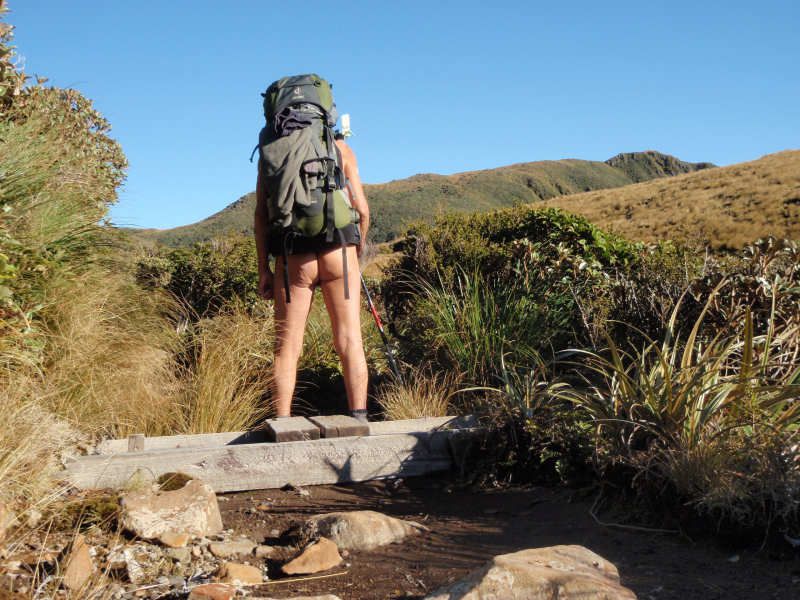 De la tour géodésique sur le Mont Pouakai, j'ai regardé vers le bas la chaîne Kaitaki qui se trouve bien en dessous, avant de retrouver la civilisation, par la piste Dover .
From the geodetic tower on Mount Pouakai I looked down on the Kaitaki Range far below before descending back to civilisation down the Dover Track.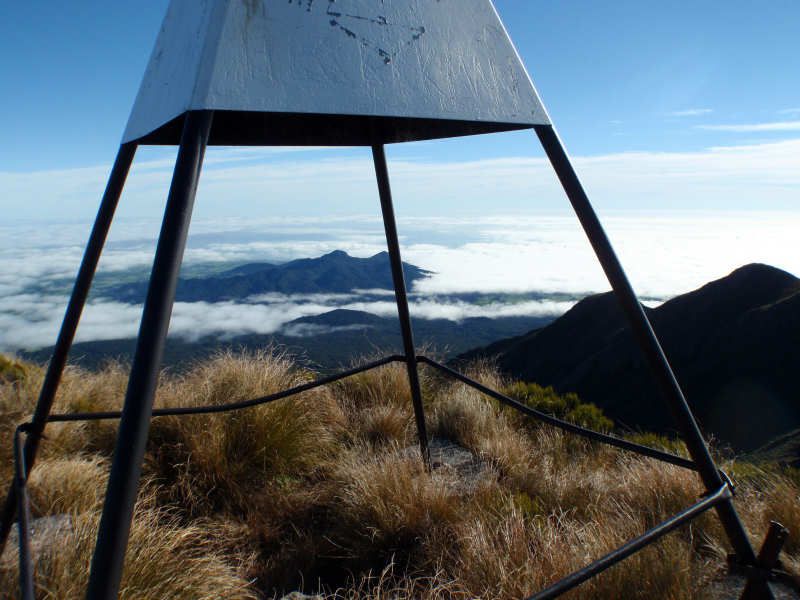 Comme je suis chanceux de vivre à proximité du parc national et de pouvoir profiter d'une telle aventure!
How lucky am I to live near the National Park and to be able to enjoy such an adventure!
Partager cet article